Let The Healing Begin [LIVE]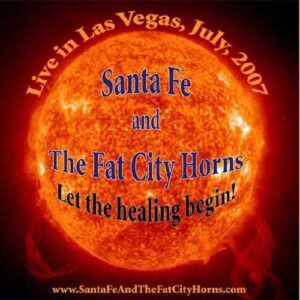 Santa Fe & the Fat City Horns is a relatively new band on the "Scene". The band was formed by band leader Jerry Lopez and his close friends David Richardson, Eddie Garcia, his brother Lenny Lopez, Greg Neer, and Rochon Westmoreland.
This was the nucleus of the band, and together they dreamed up the idea of the "perfect band", and the "perfect gig".
It went something like this: "Lets surround ourselves with people we love and respect, that are amazing musicians. Then lets write, and arrange specifically for that group. We'll take "covers" of tunes that we love, and make them our own.
We'll make the band as big as we need to in order to play these arrangements "live" on a stage in front of people. And last but not least, do it without restrictions of any kind. Without concern for what it would cost, what we would make, what entertainment directors, record executives, agents, producers, other musicians, or even the audience would think.
We would do this selfishly so that we could relive what it felt like when we were kids and found the magic that great music had on our lives. To get the "healing" that making great music with people we love and respect could bring.
Somehow people heard about what we were doing and we found that there were others out there that are unserved musically in todays "music market". This is a project of pure passion and respect for the music that heals us first of all, and secondly to bring some healing to others that love the same music we do!"
Now, pick up a copy of "Let The Healing Begin"and you can listen for yourself.
BUY IT HERE: