Jerry Lopez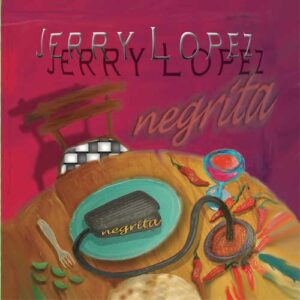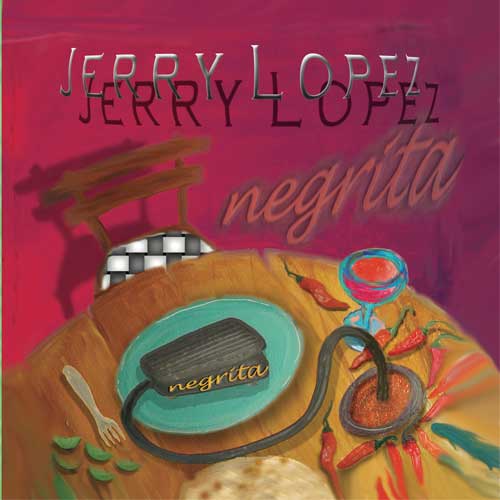 The CD contains 14 original songs by Jerry Lopez and friends, and produced by Jerry and James Hosmer
This project is a labor of love by Jerry and all of his friends and band members in "Santa Fe", the Clint Holmes band, and the Ricky Martin band.
In this CD you will find an eclectic mix of music that is all a part of Jerry Lopez's heart and soul and performances by some of the worlds greatest producers, writers, singers and musicians. Some of the guest musicians are listed below.
Bill Champlin, Larry Williams, Ronnie Foster, Greg Mathieson, Jay Graydon, Bruce Conte, Steven Lee Cowart, Lenny Lopez, Johny Hernandez, Gabriel Falcon, Pepe Jimenez, Eddie Garcia, Adrian Garcia, Rochon Westmoreland, Dave Hart, Nathan Tanouy, Greg Neer, Linwood Bell, Danny Falcone, Glenn Colby, Rob Mader, Philip Wigfall, Jerry Mera, Cocho Arbe, Waldo Madera, Frankie Perez, Jose Sibaja, Carlos Perez, Victor Vasquez, Hectore Infanzon, Arturo Ortiz and Bill Zappia.
BUY IT HERE: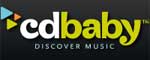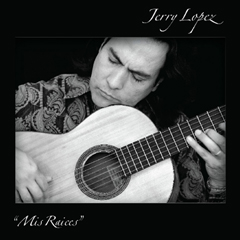 I've talked about doing this project for many years. It's a real departure from the R&B Funk Jazz Salsa stuff I've done in the past. It felt great returning to my musical roots! All the songs except for "Dejem Que me Emborache" are songs written or co-written by my father Gilberto Lopez. The majority of the songs date back to the 1960's when my father was a guard in the "tower" of the New Mexico state penitentiary. The others were written not long after that.
Although other artists have recorded some of these songs, my brothers and I have not really ever recorded them. At least not this way, the way Dad always wanted to hear them.
Dad and I sat down and discussed how he envisioned the songs, and I called my friend Gilbert Velasquez in San Antonio Texas. Gilbert is a 9 time grammy award winner and the person who I believed was the right fit to produce, arrange and engineer these recordings. Gilbert came out to Las Vegas and we sat down with dad and hammered out our ideas, and had a lot of laughs in the process. The genre I wanted to capture was the early Tex-Mex sound of the late 1960's and early 1970's when that music was in its formative stages. It was raw, and centered more around the song and singer than on the band and arranger. This is how dad heard the songs in his head.
Gilbert V. had to really hold himself back in terms of how far he could take the arrangements because he knew what we were after. Being a great musician himself and having a very creative mind, he naturally found himself wanting to go further with the arrangments than what we wanted. But more than that, he is a great producer and knew how to give us what we wanted. Mission accomplished.
With the help of Chente Barrera guiding me vocally, I did my best to interpret the songs my father wrote and to do them justice. My brother Lenny sings lead on "No me vengas a Llorrar" and as always, does a wonderful job. The band, and everyone else involved in this will always be my heroes for stepping up and contributing their talent and creativity to bring my fathers dream to life. This is a tribute to the man that gave me the tools I needed to carve my way in this business and in life, and a piece of his heart to leave as a legacy for my children and their children of a wonderful writer, but most of all, a great father and the best friend I ever had.
REVIEW BY JOHNNY HERNANDEZ, STRONGHOLD RECORDS

A hint of (late) Little Joe and The Latinaires and (early) Little Joe, Johnny y La Familia, a taste of Sunny and the Sunliners, the Latin Breed and other bands of that era, the late 60's and early 70's when Tejano Music came into itself. This describes what I call "True Tejano Music" and this is what New Mexico's Royal Family of Music Mr. Gilbert Lopez Sr. and his son's Jerry and Lenny (of the band Santa Fe and The Fat City Horns) have captured and personified in their new CD "Mis Raices". Rich in Tejano Music style and cultural spirit "Mis Raices" brings the past into the future with dynamic arrangements of beautifully voiced horn and rhythm harmonies, reeds dancing around brass movements much like the arrangements that gave birth to "Tejano Music" when performed by none other than the Godfather of "True Tejano Music" himself, Isidro Lopez. But it is the 21 Century and True Tejano Music has matured immensely, with much more sophisticated chord progressions and such perfect execution of each and every note that it motivates even the dead to rise and dance to this glorious music. But what would drive an artist that has traveled the world performing with some of the Smooth Jazz giants like Grover Washington Jr. and the great Tom Scott with whom Jerry recorded the mega world wide hit "Sarah Sarah" to turn to Tejano music? It's been his first love even as a young boy, and after having toured the world over he was compelled to record songs composed by his farther who's prolific writing is to be appreciated and recognized among the best. Which brings me to my favorite part of the CD, the vocals, there are few singers that move me deep down inside my heart and soul inspiring me to pursue the life long quest of excellence in song, Jerry is such a singer, soulful, tantalizing and sincere, without boundaries. And you will be equally moved by Jerry and Lenny's duets in perfect harmony, a thing of beauty. They may be from New Mexico but their hearts are 100 percent Tejano!! Beautiful music, awesome songs and incredible vocals, this is what the CD "Mis Raices" is all about. Let the healing begin.

Yours Truly,
Johnny Hernandez
Stronghold Records
www.johnnyhernandez.biz
 BUY "MisRaices" HERE: